Peanut Big Top is the greastest ringmasterness and circus performer in Lalaloopsy Land she can be a little bit clumsy and can mess up at the top at the end. Peanut is the older sister of Little Squirt Lil Top her name comes from the saity treats elephants love to eat as well as large circus tents that are also called the big tops.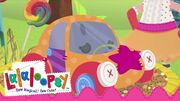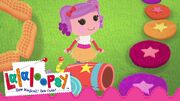 Section heading
Edit
She has been seen with her hot air balloon many times 
Section heading
Edit
She has a big crash on Ace Fender Bender 
She can make up circus tricks in no time
Not all of her lalaloopsys come with her pet elephant 
She has given Rosy her bike. 
She´s the only lalaloopsy that can make people laugh. 
Her Elephant is a boy.  
She always has a trick up her sleeve.  
She loves to prank people  
Her and Misty Mysterious both have tricks Misty can do magic tricks Peanut can do circus tricks.